---
Our fine jewellery boutique and jewellery and watch outlet are situated opposite one another in the chichester buttermarket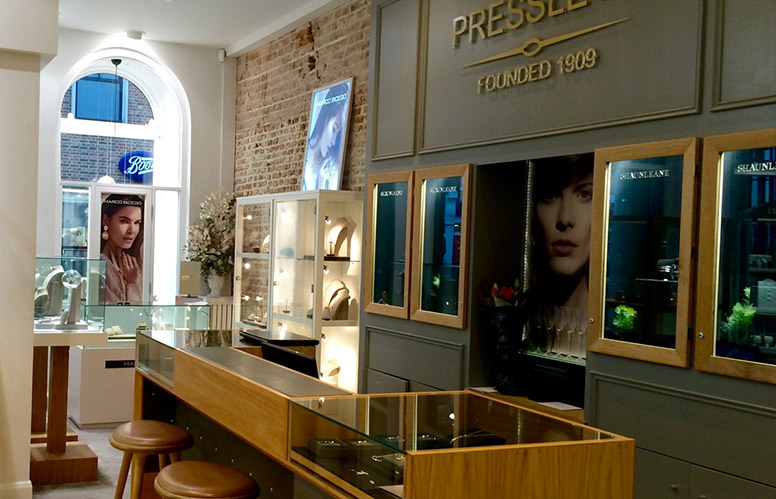 Pressleys Jewellery and Watch Outlet

Stunning, one-of-a-kind luxury jewellery and watches at discounted prices. Pressleys Unit 1 will consist of beautiful diamond jewels and top of the range time-pieces marked at a once-in-a-life-time offer, due to the retirement of family members. As 5th generation Jonathan Pressley is passionately heading both Chichester stores. With up to 40-70% discounts on jewellery and unbeatable deals on brands such as Rolex and Tutor watches, this clearance sale store offers the possibility to achieve the dream gift at a truly dreamy price.
---
Pressleys Fine Jewellery

Located within the city's exclusive Butter Market, our boutique store is an established shopping destination for the finest jewellery and exclusive luxury designer brands.

Address

The Buttermarket Unit 2
North Street
Chichester
West Sussex
PO19 1LQ
T: 01243 755310

Opening hours

Monday - Saturday:
9.30am - 5.30pm
Sunday:
10am - 4pm
Book a consultation
Thank you for contacting Pressleys. We will respond to your request within 48 hours.
Sorry, we are not able to process your request at this time. Please contact us on 01243 755310.
Experience our award-winning service exclusively, at a time that suits you, and book a private consultation with one of our friendly advisors. We will return your request to arrange a viewing within 48 hours.
Submit